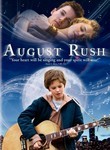 If you haven't seen this movie yet, SEE IT!!!!
I just finished watching it finally. I've wanted to see it for months, simply because Jonathan Rhys Meyers is incredibly awesome. And Keri Russell is a fabulous actress...... But WOW. This movie totally supercedes EITHER of them as actors.
I have NEVER, EVER seen a movie that made me cry, the entire way through..... And not for sadness, but for the beauty that is expressed. The child who portrays Evan Taylor/August Rush is completely beautiful. The story is of love and loss and finding it all again and KNOWING what you've found.
RENT IT, BORROW IT. WATCH IT!!!!! I cannot stress how beautiful this movie was. WATCH IT!